Tax team joins 5 Stone Buildings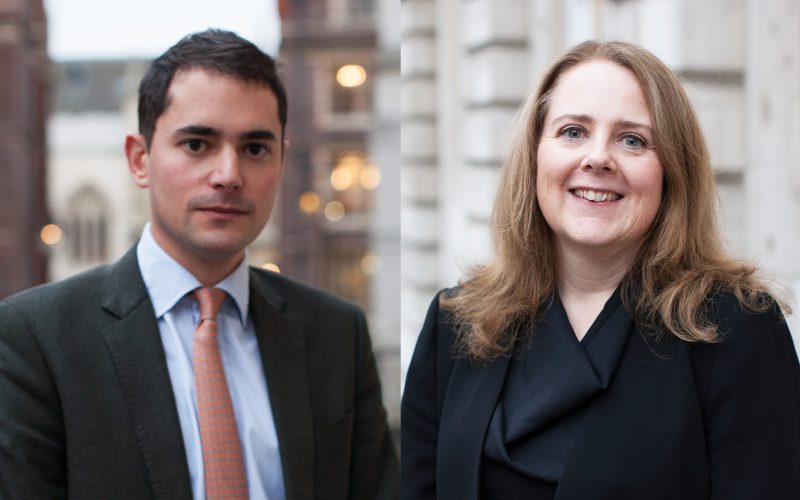 New members of chambers at 5 Stone Buildings in 2017
New members of chambers
We are delighted to announce that Amanda Hardy QC and Oliver Marre joined 5 Stone Buildings on 1 December 2017. Both are well known tax counsel, who have been in practice in Lincoln's Inn, and are listed in the legal directories as leading barristers in their fields.
We are particularly pleased to be able to raise chambers' profile in tax matters, bringing additional strength and depth to the current membership, and following in the footsteps of Revenue bar luminaries who have practised from chambers, who include Lord Walker of Gestingthorpe, the late Michael Hart J and the present Lord Justice Henderson.
Amanda took silk in 2015 and is widely regarded as a leading practitioner. She has a thriving advisory practice in both private client and corporate tax and is a regular and enthusiastic litigator, most recently appearing in the Supreme Court in R (on the application of De Silva and another) v Commissioners for Her Majesty's Revenue and Customs [2017] UKSC 74. She is recognised in Chambers & Partners, Chambers & Partners High Net Worth and the Legal 500, which says: "She has a strong presence and an ability to command the room". Amanda is the author of the International Guide to the Taxation of Trusts: The United Kingdom (IBFD) and the forthcoming second edition of Tolley's Statutory Residence Test.
Oliver is listed in the Legal 500 as a leading junior, where he is noted to be "a very considered and approachable adviser". Recent litigation includes acting for the Government of Gibraltar in proceedings at the European Court of Justice in Case C-192/16 Fisher v HMRC as well as trust variations and litigation in the tax tribunals and the High Court. He also has a busy advisory practice spanning the full range of tax work. He was co-author of the 9th and 10th editions of The Taxation of Charities, and writes chapters on High Net Worth taxation and taxation on divorce for Tolley's Tax Planning.
In recent years, Amanda and Oliver have often worked together on large tax advisory matters and heavy litigation. For example, acting for the taxpayers in the Mauritian trust tax case Lee & Bunter v HMRC  [2017] UKFTT 279; for the wife in the UK's highest recorded contested divorce case; and for the applicants in a number of judicial review challenges currently being brought against HMRC.
Amanda says: "5 Stone Buildings has an impressive pedigree and I am hugely looking forward to working alongside so many talented colleagues, helping to expand the tax side of chambers' practice." Oliver adds: "I am thrilled to be starting a new chapter in my career at 5 Stone Buildings at such an exciting time in chambers' growth and development."
We are equally looking forward to welcoming them as members of 5 Stone Buildings.
Tax team joins 5 Stone Buildings
New members of chambers